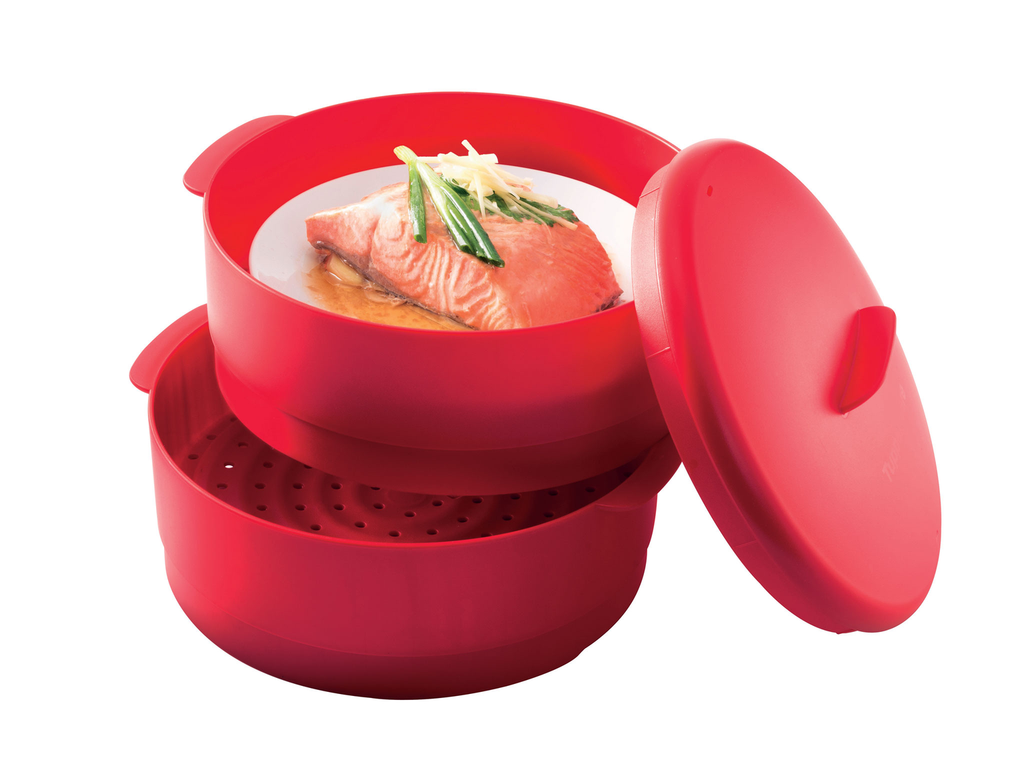 Tupperware
Steam It
---
Innovative Concept
Steam It- Preserves the traditional characteristics of the bamboo steamer while enhancing functional benefits.
One steam, two healthy meals!
Hydrophobic material repels water from steaming surface
Inner grooved perimeter drains water from the side into the pot
Ridged to prevent food from sticking
Dimension
20.6 cm (D) x 22.9 cm (L with Handle) x 12.8 cm(H 1 tier) / 18.0 cm (H 2 tiers) 
Do
Use Steam It with

TupperChef Inspire Wok

Always fill water to the level indicated at the base.
Use medium heat of 120 - 130 degrees Celsius to steam.
If water is boiling too violently, lower flame to prevent water from bubbling over into the food surface.
In the case of evaporation, refill with hot water.
Lift the cover away from face after steaming.
Use heat pads over handles to remove Steam It tiers.
Clean gently with dishwashing detergent / dishwasher
after each use and dry. By hand or diswasher.

Don't
Never use Steam It without water or it will melt the bottom.
Never fill water beyond the base water line.
Never place Steam It over narrow or fitting rimmed pan to avoid the danger of windblown flames or direct heat damaging its sides or handles.
Do not use abrasive detergents or scourers on Steam It.
---
Share this Product
---
More from this collection